Information Center
The UCI Student Center
The UC Irvine Student Center is open from 7:30 a.m. to midnight daily, except on University holidays and during finals. The building is closed on University holidays.
Visitor Parking Permit Information
---
The UCI Student Center is building number 113 on the campus map and is located across from the Student Center Parking Structure (SCPS).
Driving Directions
to Student Center Parking Structure
Student Center Building Map
(color)
Student Center Building Map
(per level)
The Student Center is ADA compliant. Single-stall, gender-inclusive restrooms available at ASUCI and Starbucks.
Local Hotels & Airports
Ask about special offers available to UCI affiliates and campus guests from this list of participating hotels.
UC Irvine is only a 5 – 10 minute drive from Orange County's John Wayne Airport.
Information Center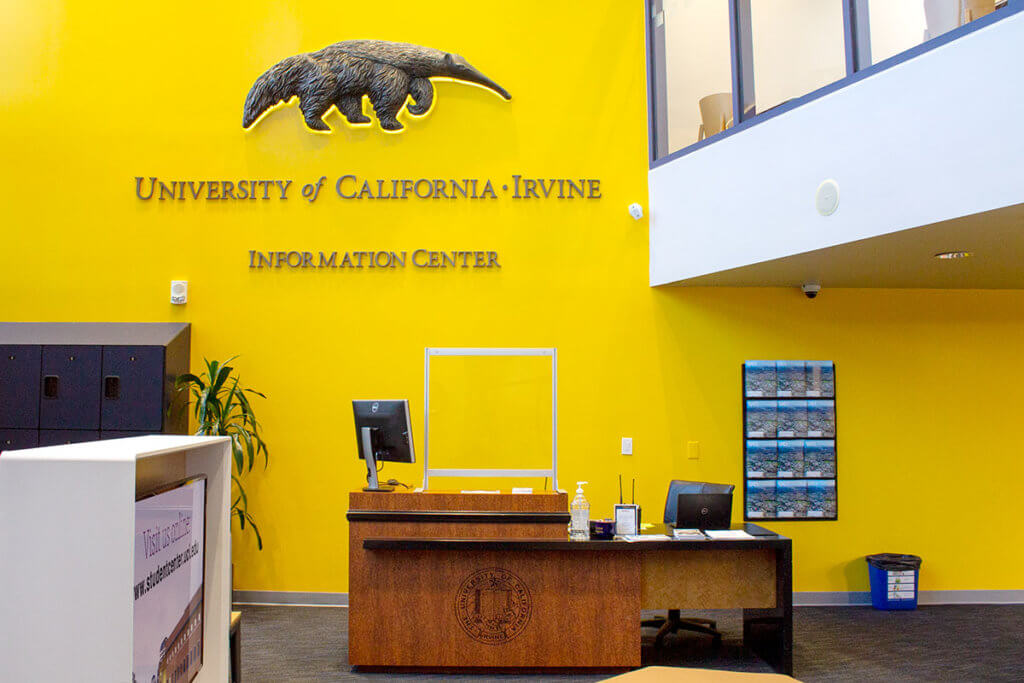 Conveniently located just inside the entrance to the Student Center, the Information Center should be the first stop for prospective students and their parents, alumni and all visitors who want to know more about the University of California, Irvine.
About the Information Center
Hours
Monday – Friday: 8:00 a.m. – 8:00 p.m.
Saturday – Sunday: Closed
Phone
949.824.4636
Email
It's your home away from home. When faced with daily commutes and long gaps between classes, you can find your comfort zone here. Stay on campus. Save time. And save money. Located inside the Information Center.
Amenities:
Free day-use lockers
Microwave and refrigerator
Comfortable lounge furniture
Power outlets
Wi-Fi
Prospective Student Information
Assistive Listening Devices
If you are attending an event in the Student Center and require Assistive Listening, you may check out an Assistive Listening Device from the front desk of the Information Center.