Book an Online Webinar
Student Center & Event Services provides Zoom Webinar services to help UCI Registered Campus Organizations and departments host webinars with up to 3,000 view-only participants (includes hosts, panelists, and view-only attendees).
SCES does not offer Zoom Meeting services.
SCES will consult with you to determine the best format and Zoom Webinar features to incorporate into your online event. SCES staff will then set up the Zoom Webinar, schedule a training session, and provide a technician to address onsite technical issues during the webinar.
More specifically, SCES' Zoom Webinar service includes:
Access to a SCES Senior Meeting & Event Planner to determine Zoom Webinar account configuration settings for the event, coordinate tech support, and create a contract
Option for automated Zoom Webinar registration and reminder emails
Help setting up Q&A and polling questions in advance of the event
Access to Zoom Webinar during the event via the co-host and panelist roles
A strongly recommended one-hour (or less) training session with a tech prior to event date for co-hosts and panelists to familiarize themselves with their access and capabilities
30-minute practice session* with a SCES Tech just before the event start to ensure co-hosts and panelists are online, have access to video and sound, and are ready to go
An SCES Tech during the event to manage Zoom account configuration and settings (Note: SCES has some default settings that apply to all Webinars)
Free event advertising and promotion in the UCI Now app and SCES website
Webinar Wrap-up Report showing event registrants, attendees, poll results, and Q&A questions
*Practice sessions are not the same as an event run-through. A full event run-through can be requested as an add-on service to the webinar package. Associated tech staffing fees will apply.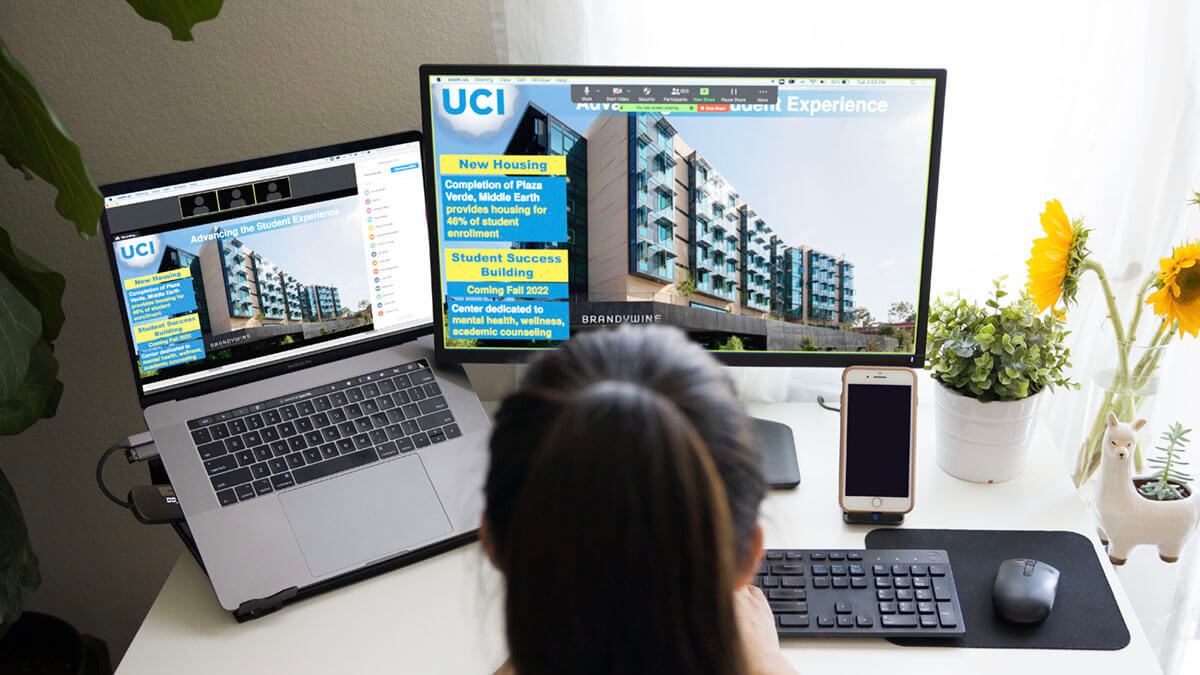 Get Started
Once the inquiry is submitted, SCES will review the inquiry and reach out to the contact to discuss service availability, Zoom Webinar format and capabilities, and any associated costs.
What is the difference between a Zoom Webinar and a Zoom Meeting?
Zoom Webinars:
allow the host to designate speakers and manage attendee engagement through Q&A and polling questions
give attendees view-only access
are best for town halls, guest speakers, trainings, and presentations by an individual or group to a larger audience
do not have breakout rooms
Zoom Meetings:
allow all participants to manage their video and audio, share screens, and see who else is participating in the meeting
are best for interactive events, small meetings, discussions, breakout rooms, and social events
allow current UCI students and employees (with their UCI-provided Zoom Meeting account) to host meetings with up to 300 participants on their own account
---
Help With Webinars