Stories
A Farewell to Spreadsheets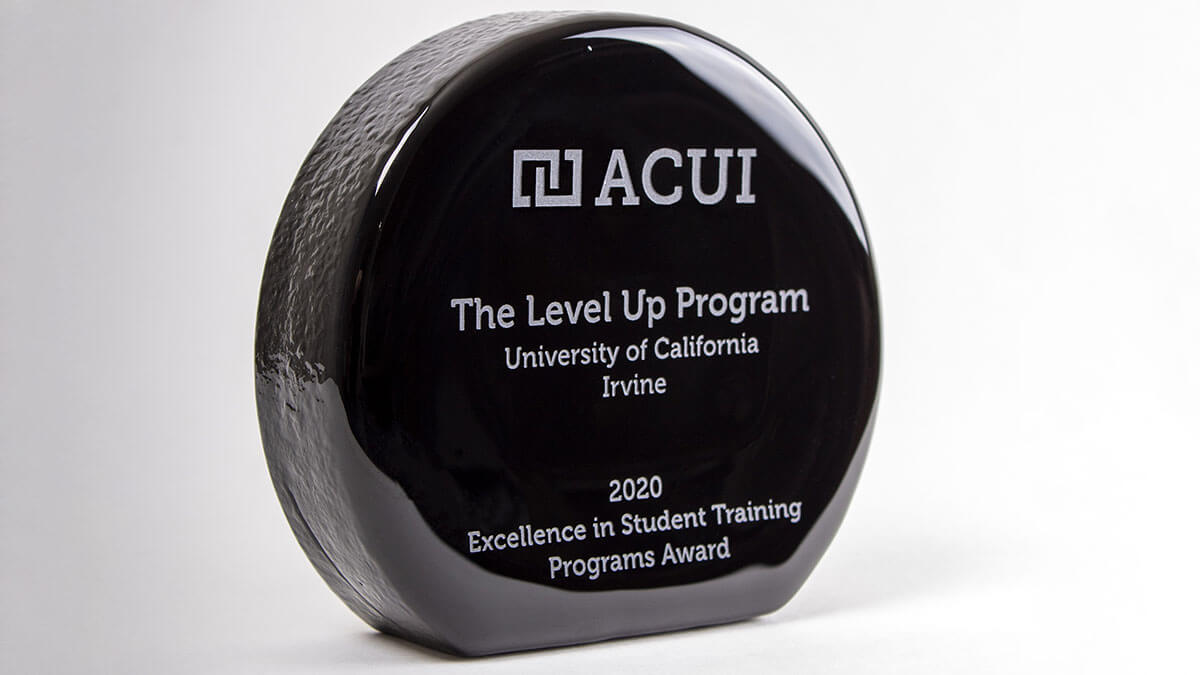 ACUI Award for the Level Up Program awarded April 2020
Posted on August 18, 2020
by Nel Tristan
Students are expected to make the most of the tools they are given. In an age where technology can streamline quite a few workplace processes, the Student Center IT Developer team has developed a program allowing managers to easily monitor student development by modernizing a previously cluttered system.
The Level Up Professional Development Program is a student-made Web application whose accolades include the Council for Advancement and Support of Education's 2019 Circle of Excellence Silver Award, the National Association of College Auxiliary Services' 2020 Innovative Achievement in Auxiliary Services award, and the 2020 Excellence in Student Training Award, as presented by the Association of College Unions International. Their recognition of the program's potential opens many possibilities for further implementation of the application and draws more attention to the ingenuity at play in the Student Center. By allowing students to set concrete goals and providing accessible training programs that cover a broad range of subjects, Level Up helps redefine workplace learning. Students are able to pace themselves alongside the evolving demands of the current job market. After completing their assigned training, students receive the chance to "level up" and gain access to further training and even an increase in pay, encouraging constant professional growth.
From a managerial perspective, Level Up accumulates data which was previously only viewable through a bulky network of spreadsheets, allowing managers to better surmise the progress student employees have made in their training.
"The great thing about Level Up is that it puts things into perspective more than anything," says HR Manager Erik Ramirez. "Excel, Word, and spreadsheets are all great but when you can actually use technology in your favor it really does help out quite significantly. And it's helped me in my role where I can actually focus on more important things in regards to HR."
Whether the task be onboarding or training, Level Up places all of the essentials for student employees in one convenient location for both managers and employees to track. Operations Manager Kendi Rosas Goss says, "The Level Up program has provided the Operations team a more standardized way of tracking our student staff's training. It has allowed our student staff to visually see their training progress and know in advance all the necessary steps they need to complete in order to level up. This program has enabled us to track our students' progress from their hire date and ensure that our training is consistent across the board."
While certainly beneficial to managers, Level Up also provides resources to student employees working at the Student Center. Students learn to connect their current responsibilities with long-term goals. The application helps users visualize their progress and document the skills they obtain during their time at the Student Center by utilizing the résumé-building section provided. Students are encouraged to foster meaningful interactions with the full-time staff and fully integrate themselves into a professional work environment.
Level Up also assists managers in monitoring their retention rates. "It really kinda puts a good picture on why people are staying or leaving," says Ramirez. "It'll help me talk with the directors to let them know what the climate is with the department. I'm able to have a brief exit briefing to ask them some basic questions. Hopefully, with Level Up, if I can't meet with them, I can send them a little survey that's auto-generated."
In the current economic climate, finding employment opportunities best suited to a student's needs remains a crucial element of life. Level Up strives to redefine the learning curve and prepare student employees for future success.