Stories
The Journey Toward Performance Excellence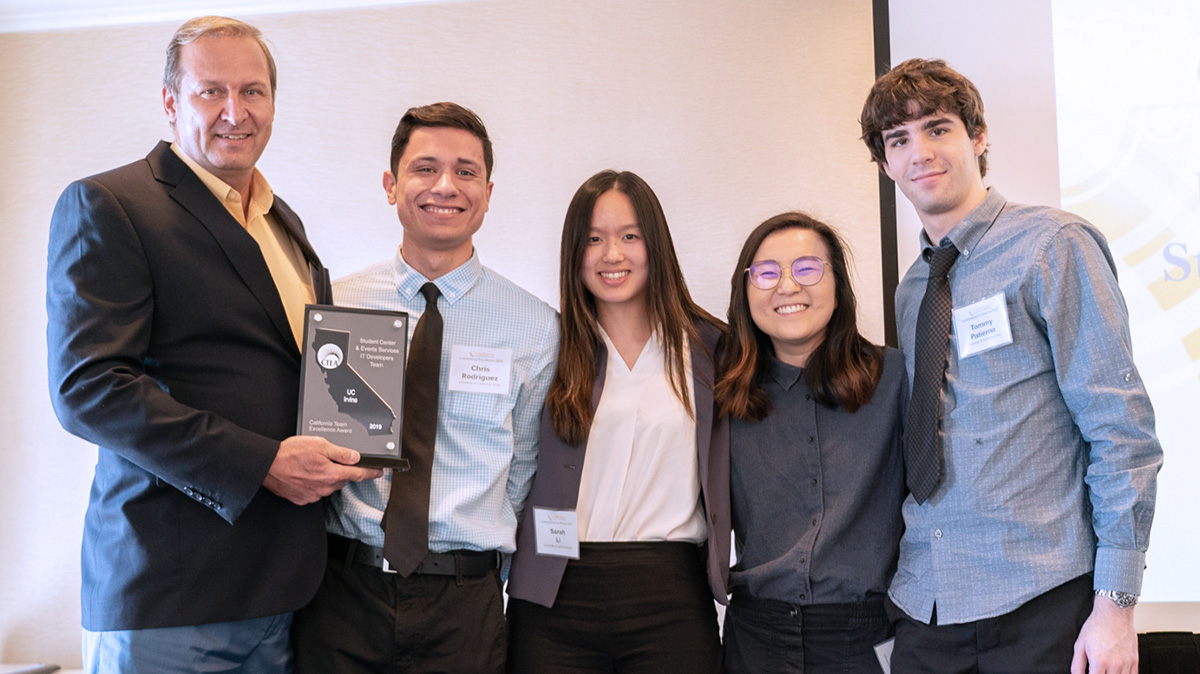 Brian Petyo displays CTEA Award with team members Chris Rodriguez, Sarah Li, Rebekah Li, and Thomas Patierno. Photo credit: CTEA
Posted on April 30, 2020
by Alexander Cardona
On February 26, 2020, the Student Center IT Developer Team was awarded the California Team Excellence Award (CTEA), one of the state's most prestigious awards for performance excellence.
The requirements consist of rigorous assessment in the areas of leadership, strategic planning, customer focus, knowledge management, workforce engagement, and day-to-day operations. Under the leadership of Marketing and IT Developer Manager Brian Petyo, with the vigor and zeal of UCI's Anteater student employees, the student IT developer team claimed their fourth award in the span of two years. But what is the driving force behind the student developer team? How do they push for performance excellence?
Since 2018, Petyo has fostered the developer team from their humble beginnings to the world-class and award-winning team that they are today. "It all started in a closet," Petyo says. From those days spent in a leaky closet, a single workbench, and a doorless office, Petyo and the team were continuously rewarded with award after award for their drive and efforts.
"I remember showing up for my first day of work and being introduced to our closet office," says full-stack web developer, Thomas Patierno. "Generally, it was okay when two to four people were in the office, but if any more than that were there people would have no place to sit or would just have to stand—or leave." Patierno was the first and, at the time, the only web developer. He was hired to work on the Level Up web application, which later won the developer team the CASE Circle of Excellence Silver Award, and has seen the team grow by leaps and bounds from the tiny office he was hired in. While Patierno recounts that the team's closet office left much to be desired, he attests that it was Petyo's perseverance and consistent leadership that eventually allowed them to secure an office space of their own and pushed them toward the path to new achievements.
"Our very first app was the Real-Time Ops app and it turned a lot of heads," Petyo says, reminiscing. This app helped Student Center staff with data literacy and time efficiency by optimizing inventory controls, shift reports, and cost recovery. "I looked right at David, the designer, it was just me and him in that AV closet, and I said, 'We're going to win an award for this.'" And win an award they did. In April 2018, Petyo was in Philadelphia to receive the America's Innovation Award for Real-Time Ops.
"What was fascinating about that app is that it was a direct result of me sitting down with the Baldrige framework and saying, 'Okay, how do we listen to the voice of the customer?' I think that's the magic of responding to tough questions about your business, right? It's that you will have those 'aha' moments. That was innovation. It's in the name of the award that we won and it's at the center of the Baldrige Framework and Performance Excellence Program. Innovation, innovation, innovation."
But what is the Baldrige Framework, and what is performance excellence?
Malcolm Baldrige was a former U.S. Secretary of Commerce, serving from 1981 to 1987. Throughout his term, he improved the efficiency and effectiveness of many government policies. The guidelines and practices of the California Council for Excellence are Baldrige-based and stem from his legacy of best business practices.
Petyo sees the Baldrige Performance Excellence Framework and the CTEA as a way to learn and embody the language of business. For him, this framework is the most comprehensive set of guidelines when it comes to teaching terminology, understanding improvement tools and devices, data literacy, and going beyond the science of management.
From that point on, Petyo pushed himself and the team to strive for performance excellence, the framework which guided their vision for success. "2019 became our benchmark year. That's when our team really grew to capacity; space and budget and all that," Petyo says. This was the year the team took the step toward something different and took their dedication to performance excellence to the highest level. The team won another award, the CASE Circle of Excellence Silver Award for their Level Up web application. The app was chosen among 2,800 submissions for its ability to help business managers measure workplace capacity, capabilities, opportunities for growth, and enabling of professional advancement. They committed to becoming a model of national excellence and went after the California Team Excellence Award.
"We want to be that shining light on a hill. That ray of light on a stormy night at sea," Petyo continues. "We want U.S. organizations to look at us for best practices, and I believe that there is enough talent here at UCI to make that happen."
The CTEA award ceremony was a chance for both Petyo and the student team to truly revel in their work and take pride in their achievements thus far. "It felt amazing to be awarded for our work," says developer Sarah Li. "The whole CTEA process was a long journey. The ceremony was an experience that recognized us for our dedication to process refinement and team building. It was a day full of networking, recognition, and fun!"
Fellow developer Chris Rodriguez shares her sentiment. "It makes me feel like my work extends beyond the walls of the Student Center, and honestly I didn't think I'd get to have that opportunity here," he says. "I'd say the best part was seeing how happy and proud Brian was of the team," Rodriguez says when asked about the ceremony. "Brian does a good job of giving the team a vision. He cares about our opinions and doesn't override them, even if they aren't what he wants to hear. He respects our knowledge as developers, and in turn, we try and do what we can to complete the objectives he creates." Many members of the team also team testify that Petyo's efforts were tantamount to their success.
"I see this more as an award for Brian's hard work in investing into each and every one of us and growing the team to how it is today," says developer Rebekah Li. The office has changed much in Li's year working the position. She has seen the space grow and change in terms of structure and in the capabilities of the team, and throughout it all Petyo has been there as a constant driving force. "He is always a leader for us, always trying to get what's best for us and looking into ways to grow and improve the office and team as a whole. He's not afraid of trying something new and taking on new projects and exploring new directions."
The team has grown exponentially since its inception, due to both Petyo and the team's own efforts. Patierno remarks that when he was hired his interview was bared-boned, spanning about fifteen minutes with no code assessment of any kind. Now, developer team interviews are nearly an hour, with a well-defined set of behavioral, programming, and coding assessment questions. "While I can hardly credit Brian for developing these technical questions," Patierno says, "I can credit Brian with giving us—student employees—the opportunity to run the interviews and assess the candidates as we see fit for their job description." Through the chances given to shine through their strengths and innovate, this group of UCI students has been able to push the boundary for success again and again.
"It's always special to be recognized for having done an exceptional job on something, beyond just having satisfied employer or job requirements," says Patierno. "Even though the whole team could not attend, it was really special to see the team as a whole being recognized for our work." In the past, the awards the developer team had received had been for a specific project or a subteam, but winning the CTEA for performance excellence was something that all the developers could all take pride in together.
Petyo truly values the intelligence and potential of UCI's Anteaters and is incredibly proud of the progress and members of the developer team. "I think sometimes people think leadership is common sense. It's not common, and it's not sense," Petyo says. "There's nothing common sense about being excellent or best in class. You can't just say 'I want to be best in class,' you have to prove it."